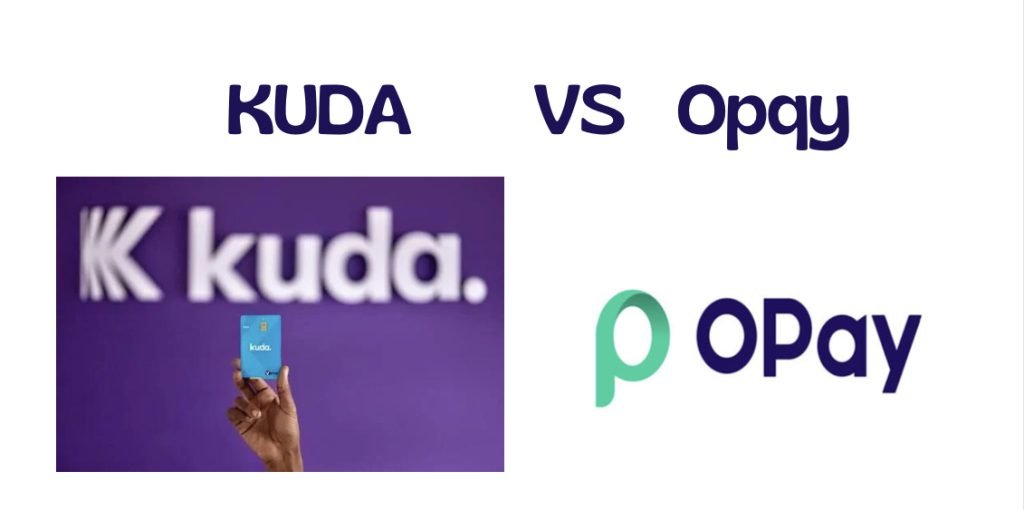 You may ask which app is the best between Kuda and Opay?. Both banks offer a wide range of services, including bank accounts, debit cards, loans, and savings. But which one is the best?
The answer is not so simple
Both Kuda and Opay have their own strengths and weaknesses. Kuda is known for its sleek user interface and its focus on customer service. Opay, on the other hand, has a wider network of merchants and offers more investment options.
In this article, I will give you all the details you need. Take your time to read to the end. Let's get started. 
What Is Kuda?
Kuda, also known as Kuda Microfinance Bank, is a digital-only bank operating in Nigeria. It aims to revolutionize the banking experience by offering a comprehensive suite of services through its mobile app. Kuda's key features include easy account opening, money transfers, bill payments, savings, and budgeting tools. As a licensed Microfinance Bank by the Central Bank of Nigeria, Kuda assures its users of secure and regulated financial services.
What Is Opay?
Opay, on the other hand, is a multi-service platform that extends beyond just banking. Originating from the Opera Group, the company behind the popular Opera Mini browser, Opay expanded its services to include mobile payments, food delivery, and more. 
In Nigeria, Opay's mobile money platform has gained significant traction due to its seamless integration with the Opera Mini browser and other popular applications.
Similarities between Kuda and Opay
Both Kuda and Opay share some common features that have contributed to their widespread popularity among Nigerian users.
Mobile-First Approach
Both Kuda and Opay are exclusively app-based platforms, catering to the growing preference of Nigerians for mobile banking and digital services. By providing a seamless user experience through their mobile apps, they have effectively tapped into the smartphone-driven market.
Money Transfer Services
One of the primary attractions of both platforms is their easy and swift money transfer capabilities. Whether it's sending money to friends, family, or businesses, Kuda and Opay have simplified the process, reducing the reliance on traditional banking channels.
Bill Payments
Kuda and Opay also offer bill payment services, allowing users to settle utility bills, such as electricity, water, and cable TV, without the need to visit physical payment centers.
Pros and Cons of Kuda
Pros
1. Zero Account Maintenance Fees
Kuda takes pride in offering zero account maintenance fees to its users. This approach has attracted many customers looking for a cost-effective banking solution.
2. Free Debit Card
Kuda provides its users with a free debit card, easing access to their funds through ATMs and facilitating cashless transactions.
3. Budgeting and Savings Tools
With Kuda's budgeting and savings tools, users can better manage their finances, set savings goals, and gain insights into their spending patterns.
Cons
1. Limited Customer Support
One of the drawbacks of Kuda is the limited availability of customer support channels, which may lead to delays in resolving issues for some users.
2. Restricted Transaction Types
Compared to traditional banks, Kuda might have some limitations in terms of transaction types, which could be a concern for businesses with complex financial needs.
Pros and Cons of Opay
Pros
1. Multi-Service Platform
Opay's strength lies in its diverse array of services, such as mobile payments, ride-hailing, food delivery, and more, making it a one-stop-shop for many daily needs.
2. Cashback and Discounts
Opay often offers attractive cashback and discounts on transactions, enticing users to continue using their platform.
Cons
1. Transaction Fees
Some users have expressed concerns about transaction fees, as certain services may incur additional charges, impacting the overall cost-effectiveness.
2. Complex Interface
Opay's multifaceted platform might lead to a slightly complex user interface, potentially causing confusion for some users, especially those new to digital platforms.
Conclusion
So, which one should you choose?
That depends on your individual needs and preferences. If you're looking for a bank that's easy to use and has great customer service, then Kuda is a good choice. If you need a bank with a wider network of merchants and more investment options, then Opay is a better option. But the real winner is you
No matter which bank you choose, you're sure to get a great experience. Both Kuda and Opay are leading fintech companies that are committed to providing their customers with the best possible service.
So, what are you waiting for?
Sign up for a Kuda or Opay account today and start enjoying the benefits of digital banking! Thanks for reading to the end. 
FAQS
Can Kuda be trusted?
Yes, Kuda can be trusted. It is a fully licensed and regulated digital bank in Nigeria, and it is insured by the Nigerian Deposit Insurance Corporation (NDIC). 
Is PalmPay better than Kuda?
PalmPay and Kuda are both popular digital banks in Nigeria, and they offer a variety of similar features. However, there are some key differences between the two banks.
How much is Kuda limit?
The Kuda limit refers to the maximum amount of money you can send, receive, or withdraw from your Kuda account. The limit depends on your account tier, which is determined by the level of verification you have completed.