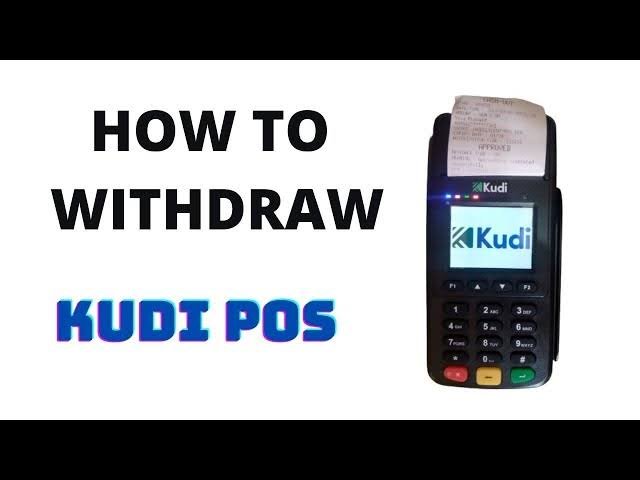 Are you ready for cashless transactions and take your business to the next level? As a budding entrepreneur or an established business owner, you understand the importance of staying ahead in the game.
Without access to the Kudi POS system, your business might face some serious roadblocks.
Imagine this scenario where you've got customers waiting in line, eager to make purchases, but you're stuck with outdated payment methods that slow down your operations. Frustrating, isn't it? Well, here's the deal when it comes to seamless transactions, Kudi POS is the way to go.
In this article, we'll explore Kudi POS, covering everything from the machine's price to withdrawal charges and daily targets. Without further ado, let's gr started.
What is Kudi POS?
Kudi POS now known as Nomba is a versatile point-of-sale machine designed to simplify payment processing for merchants. It enables businesses to accept various forms of payment, including debit cards, credit cards, and mobile wallets. With Kudi POS, you can offer your customers a convenient and secure way to make payments.
Who Can Get a Kudi POS Machine?
The beauty of Kudi POS is its accessibility. Any registered business in Nigeria can acquire a Kudi POS machine, with no stringent prerequisites such as minimum turnover or employee count.
How to Get a Kudi POS Machine
Acquiring a Kudi POS machine is a very simple. To get started, follow these three simple steps.
Step 1: Create a Kudi Account
To get started, visit the Kudi website or download the Kudi app. Fill in essential information about your business, including your name, address, and contact details.
Step 2: Apply for a Kudi POS Machine
Once your Kudi account is set up, proceed to apply for a POS machine. You can do this online or by visiting a Kudi agent. During this step, provide additional information such as your business type and expected monthly transaction volume.
Step 3: Receive Your Kudi POS Machine
Upon approval of your application, Kudi will dispatch your POS machine within a few days. Along with the machine, you will also receive the Kudi Merchant App, a valuable tool for managing transactions and tracking sales.
Kudi POS Withdrawal Charges
Understanding the withdrawal charges associated with Kudi POS is essential for transparent transaction processing. Charges are determined based on the withdrawal amount:
For withdrawals below ₦4,500, a flat charge of ₦25 applies. Also, withdrawals between ₦4,501 and ₦25,000 incur a fee equivalent to 0.6% of the withdrawal amount.
Lastly, Withdrawals exceeding ₦25,000 carry a fixed charge of ₦150.
Kudi POS Machine Price
Investing in a Kudi POS machine comes at a reasonable cost of ₦25,000. This payment is one-time, with no monthly or annual fees.
Kudi POS Daily Target
One of the standout features of Kudi POS is its absence of a daily transaction target. This flexibility allows merchants to utilize the POS machine according to their unique business needs, free from the pressure of meeting specific transaction quotas.
Conclusion
In conclusion, getting a Kudi POS machine for your business in Nigeria can significantly enhance your payment processing capabilities, expand your customer base, improve cash flow, and provide access to valuable business insights. With a straightforward application process and transparent withdrawal charges, Kudi POS stands as a reliable and cost-effective solution for businesses of all sizes.
FAQS
How much does kudi POS charge per transaction?
Kudi POS charges a flat rate of 0.7% per transaction. This means that for every N1000 you transact, you will be charged N7. There are no other hidden charges. This charge is applicable to withdrawals, transfers, and deposits.
How much does a POS transaction charge on a debit card?
In Nigeria, the average POS transaction charge on a debit card is 0.74% of the transaction value, with a fixed charge of N7. This means that for a transaction of N1000, the merchant would be charged N7.40.
How much do cards charge per transaction?
The amount that cards charge per transaction varies depending on the type of card, the merchant's payment processor, and the card network. In Nigeria, the average credit card processing fee is 1.5% to 3.5% of the transaction value. For a debit card, the average POS transaction charge is 0.74% of the transaction value, with a fixed charge of N7.